---
---
OTT documentation sections
---
Google Cast™ support

Google Cast and the Google Cast badge are trademarks of Google Inc.
---
Introduction to Google Cast™
Radiant Media Player 3.9 has been updated to make use of Cast SDK v3.
Google Cast™ is a protocol allowing media data to be sent from an emitting (or casting) device to a receiving device (example a TV). This is generally referred to as second screen experience in the industry. The emitting/casting device can be a notebook or an Android tablet for example. One can then watch video content on a TV while still being able to control the content through the casting device. Information on Google Cast SDK can be found here.
Radiant Media Player support in-player casting from Google Chrome to Google Cast enabled devices (like Chromecast or Android TV) for a top-notch second-screen video experience.
When a Google Cast enabled receiving device is detected the player will automatically display a casting icon (as part of a player module). A dedicated user interface has been designed within Radiant Media Player to support Google Cast. Radiant Media Player Google Cast implementation consists of a sender application and a receiver application (custom receiver). We have published our receiver application with Google for you to use out of the box. You can also build your own receiver application and publish your own Google Cast application with Google.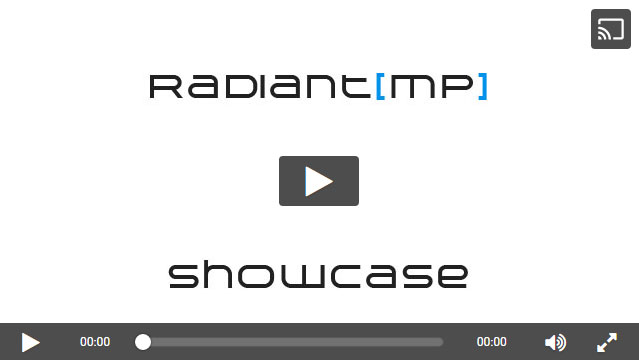 Picture of Radiant Media Player when a Google Cast enabled device has been detected
---
Supported receiving devices
Chromecast
Android TV
Any Google Cast™ compatible receiving device
Assistance for setting up a Chromecast device can be found here.
---
Supported casting devices
Google Chrome 32+ on Desktop/laptop: Windows, Linux, Mac, ChromeOS.
Google Chrome 51+ on Chrome for Android and Chrome for iOS
Version of Google Cast SDK does not currently support casting from Chrome on iOS. This will be enabled in a future release.
---
Supported features
In-player HTML5 video casting for desktop and mobile Chrome
Use your casting device as a remote to control content
Adaptive bitrate casting casting with HLS or MPEG-DASH or progressive download with MP4 or WebM
Multi-language WebVTT captions/subtitles casting
Live and on-demand video support
Custom user interface elements: artwork, content title, casting status messages
---
Google Cast specific settings
Radiant Media Player will automatically detect when a Google Cast enabled device is in range and will offer in-player casting options as soon as available.
The following player settings are available:
googleCast: Boolean
Enables or not Google Cast detection and associated player set up. This is automatically set to false for video ads. Default: true.
googleCastReceiverAppId: String
Google Cast: receiver app id. By default we use Radiant Media Player app id but you can publish your own with Google . Default: 'B17187F0'.
contentTitle: String
The content title to be displayed in the receiver app. Default: ''.
Additionally casted WebVTT captions can be customised with the following player settings:
ccFontSize: the captions font size in pixels - this will be scaled by the receiving devices - Number, default to 18
ccTextColor the captions text color - Hex code as String, default to 'FFFFFF'
ccBackgroundColor the captions background color - Hex code as String, default to '000000'
ccBackgroundAlpha the captions background opacity - Number, default to 0.8
The receiver application will use the player poster attribute as artwork.
If you want to customize the receiver application you must publish your own application with Google. A reference receiver application is provided by Google here.
---
About video ads casting
It is to be noted that neither the Cast SDK v3 nor the IMA SDK v3 from Google officially support video ads casting from Google Chrome. As such Radiant Media Player will not render video ads on the receiving device. Radiant Media Player will display video ads on the sender device, while not in casting mode. When casting is engaged video ads will be discarded on the sender device and will not render.
---
CORS requirements
Refer to this section of Google Cast SDK documentation for proper CORS set up. If you are using Wowza Streaming Engine you can follow this process to make it work.
---
Currently unsupported features
Casting playlist items or related persistent controls
Video ads casting. Video ads will only be displayed on the sender device when not in casting mode
DVR casting
Playback rate changes
---
Scope of support
Radiant Media Player scope of support does not cover troubleshooting set up of Google Cast enabled devices or assistance for building a custom receiver application.
---
Apple AirPlay support
AirPlay is now managed in iOS Control Center. Through the AirPlay option in Control Center you can push any video content being played through Radiant Media Player on iOS to a receiving AirPlay device (like an Apple TV). Note that only the raw video stream (live or on-demand) is pushed with AirPlay.
Apple AirPlay for videos works for the following emitting devices:
iPhone 4 or later
iPad or iPad mini
iPod touch (4th generation or later)
And the following receiving device:
Apple TV (2nd generation and above)
Use this link to enable Apple AirPlay on your device.