Last updated on December 13, 2021 - Back to blog home page
Sections
What is HDR video?
HDR is an acronym that stands for High Dynamic Range. The core idea behind HDR video is to recreate and enhance image realism from camera through postproduction to distribution and screen. HDR video is a technology for improving the signal that screens receive allowing those screens to render content in a more realistic and spectacular manner.
HDR technology is about color and luminance management in video content. When we talk about HDR content we are talking about brighter whites and darker blacks but also a wider color palette and new ways to add color metadata to video content.
Many TV manufacturers are using the "HDR" seal for their latest models to show that a TV onboards the latest video technologies but know that PC monitors, tablets and smartphones can also display (or capture) HDR content. Essentially anything that is a screen can be HDR ready.
Note that HDR technology is generally associated with UHD (Ultra High Definition a.k.a. 4K or 8K) content and screens.
What does HDR video look like?
HDR technology defines itself against SDR technology (Standard Dynamic Range). HD SDR screens are typically 100 nits with Rec. 709 system chromaticity, whereas a UHD HDR screen generally has a luminance between 1000 and 4000 nits with Rec. 2100 system chromaticity.
Here is a picture that shows the difference between SDR & HDR technology: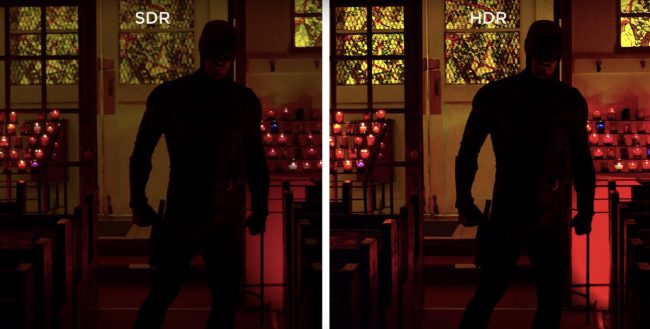 So what is a nit then?
Nits are numeric representation of the peak white color volume, a.k.a. luminance, measured in candelas per meter squared (cd/m2). In real life, HDR screens will generally show 1000 nits (LED display) which is a 10x improvement over SDR screens. More premium screens can go up to 4000 nits (OLED display).
Is it really just about luminance?
No. As mentioned above HDR is also about color management. HD SDR video uses a system chromaticity specified in Rec. 709 standard. In theory Rec. 709 standard allows for up to 16.78 million colors (8 bits per color - sRGB).
UHD HDR is associated to a Wide Color Gamut (WCG) defined in Rec. 2100 standard. Rec. 2100 standard is an extension of Rec. 2020 standard that was introduced with ultra-high-definition television. UHD HDR technology can thus define colors in a more nuanced manner with 10-bits or 12-bits per color coding but also with new transfer functions:
Perceptual quantizer: PQ (HDR10, HDR10+, Dolby Vision)
Hybrid log–gamma: HLG
Those transfer functions replaces the sRGB transfer function found in Rec. 709 standard and allow for more accurate color information to be transported.
With HDR and 10-bits per color you can have up to 1 billion colors and up to 68 billion colors with HDR and 12-bits per color. In real life, UHD HDR screens do not display all colors from Rec. 2100 standard, they generally attempt to display around 90% of the supported Wide Color Gamut. The HDR seal on a screen should however guarantee that your screen can display colors in the Wide Color Gamut color space (Rec. 2020).
Below is a picture that explains the color space difference between Rec. 709 (HD) and Rec. 2020 (UHD)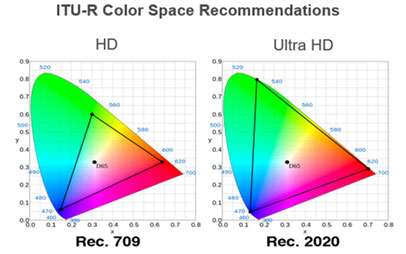 Note that there is another color space called DCI-P3 that acts as an intermediary between Rec. 709 and Rec. 2020. To summarize:
The CIE 1931 color space is, in theory, representing the complete space of colors that the human eye can see.
What are the different HDR formats?
While HDR technology is certainly a significant breakthrough when it comes to reproducing what the naked eye sees in colors, whites and blacks it however comes with a lack of industry consensus around HDR video formats. It is a bit like video codec wars really.
Today we can find 4 main types of HDR video formats on the market:
HDR10: proposed by Dolby, then adopted by the Consumer Technology Association as SMPTE ST-2084 standard in 2014, is the most commonly HDR format found on the market (as of end of 2021). HDR10 uses static metadata.
HDR10+: proposed by Samsung (adopted as SMPTE ST-2094 standard) is HDR10 with dynamic metadata. Dynamic metadata helps screens better understand the original producer's intent and to present this intent to the viewer with a higher fidelity.
Dolby Vision: a proprietary solution from Dolby Laboratories. Dolby Vision is an end-to-end ecosystem for HDR video. It covers content creation, distribution, and playback. It uses dynamic metadata and is capable of representing luminance levels up to 10 000 nits (Dolby Vision is also part of SMPTE ST-2094 standard).
Hybrid Log Gamma (HLG): introduced by BBC and NHK it is a HDR format mostly used for Broadcast TV with the specificity that it does not use metadata.
What does those HDR formats look like?
HDR10 versus HDR10+ content:

To summarise - SDR versus Static HDR (HDR10) versus Dynamic HDR (HDR10+ & Dolby Vision):

Can Radiant Media Player decode HDR content?
Yes. HDR video can be played and rendered with Radiant Media Player. You will need the following:
Video content encoded and transported in UHD with HDR data (typically HDR data are signalled in HLS or DASH manifest or inside the content chunks)
A device & browser/WebView that supports decoding HDR content
A screen that can display HDR content
What devices can playback HDR content?
Below is a non-exhaustive list of devices that can play HDR content (as of end of 2021):
Latest Safari on macOS 11+ (HDR10 and Dolby Vision)
Latest Safari on iPhone 8+ (HDR10)
Samsung TV apps (HDR10 & HDR10+)
Google TV/Android TV apps (HDR10 & HDR10+)