---
---
Documentation sections
---
Virtual reality video scope of support
Radiant Media Player is committed to supporting the latest innovation in the online video world. As part of this commitment we support VR video (viewable through a head-mounted display) and 360 video in our player.
---
Supported input format
Radiant Media Player supports playback for VR 180 video (also known as 180 3D video or side by side videos) viewed in a VR headset, through HLS, DASH & progressive download. VR 180 is a video file containing 2 channels of video for the left and right eye, but for only the front facing 180 degree field of view. A more detailed explanation about VR and 360 video formats can be found here.
This works for live or on-demand video content. Given the nature of side by side videos (which can easily scale up to 4K resolution) using an adaptive bitrate streaming like HLS or DASH technology is generally recommended. Example of VR-ready side-by-side video compatible with Radiant Media Player: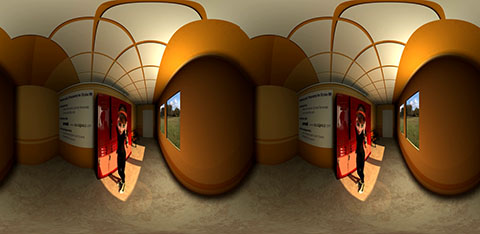 ---
Supported environments
In order to provide support for VR 180 video, viewed in the context of a VR headset, Radiant Media Player makes use of the WebXR Device API. We use three.js as VR framework (this framework is publicly available under MIT license).
We support:
---
Supported features
Most player features generally available for Radiant Media Player are available for VR web browsers/platforms. Below is a non-exhaustive list of features you can expect to be available or not when using Radiant Media Player in a VR web browsers/platforms:
| Platform/browser | Oculus platform | Daydream platform | Google Cardboard platform |
| --- | --- | --- | --- |
| Features | Oculus browser & Firefox reality | Chrome 79+ | Chrome 79+ for Android 5+ |
| HLS | | | |
| AES HLS | | | |
| DASH | | | |
| Progressive download | | | |
| HTML5 video ads (1) | | | |
| VOD, Live and DVR streaming | | | |
| Virtual reality module (2) | | | |
| Autoplay support (3) | | | |
| Widevine DRM | | | |
| Offline playback | | | |
(1) Video ads will only be visible when the player is viewed inline. When the player has entered VR mode (immersive-vr), video ads will automatically be discarded.
(2) When Radiant Media Player is used in a supported platform/browser and the WebXR Device API is available, a VR module will appear in the top-right corner. When clicked this module will cause the player to enter fullscreen VR.
(3) Based on platform/browser capabilities only muted autoplay may be available.
---
Virtual reality player settings
videoVR: Boolean
When set to true this setting will cause the player to enter VR rendering mode (where supported). Default: false.
videoVRFocalLength: Number
Sets the initial FOV (Camera frustum vertical field of view) by focal length in respect to the current film gauge. Default: 75.
---
The above player example has the following setup code:

<script src="https://cdn.radiantmediatechs.com/rmp/5.11.5/js/rmp-three-hlsjs-xr.min.js"></script>
<div id="rmpPlayer"></div>
<script>
var src = {
  hls: 'https://your-vr-hls-url.m3u8'
};
var settings = {
  licenseKey: 'your-license-key',
  src: src,
  width: 640,
  height: 360,
  videoVR: true,
  contentMetadata: {
    poster: [
      'https://your-poster-url.jpg'
    ]
  }
};
var elementID = 'rmpPlayer';
var rmp = new RadiantMP(elementID);
rmp.init(settings);
</script>